GETTING IT RIGHT WITH FROSTBRITE
Jan 12 2018
Frostbrite window film is a durable and long lasting product that can be used in a number of situations and scenarios. This recent project at a Central London office complex showcases three such uses, with a single application delivering privacy, manifestation and branding.
The Window Film Company was approached to deliver a multi-faceted solution for a glass partition. The primary requirement was the meeting of manifestation legislation. This aspect of the building regulations requires that glass of a certain height should feature easily distinguishable markings to avoid accidents.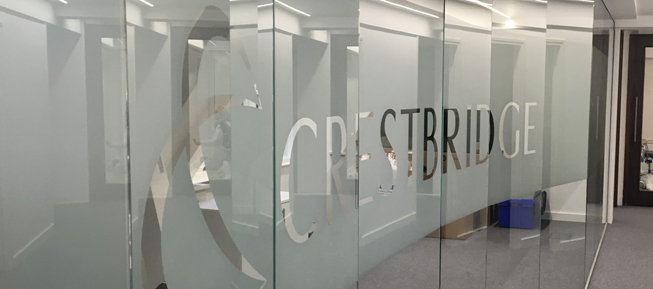 While there is a minimum size and a specific part of the glass that manifestation markings should cover, there are no other limitations. This means that manifestation can provide an opportunity to get creative and add an extra element of style or design to glass. This opportunity was seized upon by the client, who took the decision to incorporate their brand into the manifestation.
The logo and text was achieved by computer cutting the design from Frostbrite frosted film, the clear areas forming the brand elements, with the film delivering a frosted effect and meeting the necessary manifestation requirements.
The final aspect of the project was an element of privacy. While only a third of the partitions were covered, the film still provided a subtle level of privacy, ensuring that those inside weren't totally visible to colleagues or visitors walking through the corridors.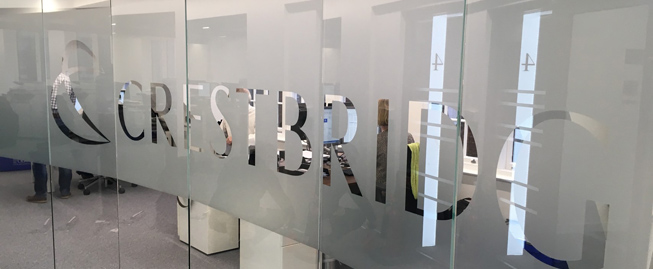 The film was prepared by The Window Film Company's in-house graphics team, who used the measurements of the five-pane run of glazing to ensure to recreate the graphics taking into account the joins between each panel, meaning that the design would run perfectly when installed.
The fitting was undertaken by a team of The Window Film Company's experienced and fully qualified installation teams, who were able to carry out the work with the minimum of fuss – enabling the office to stay open and functional throughout the process.
The finished result is a stylish and impressive addition to the glass, with the brand elements providing a bespoke and striking feature. The Frostbrite frosted film gives the glass the classic look of sand-blasted or acid etched glazing, without the need for expensive replacement of custom created glass. For more information on how The window Film Company can help make the most of your glass related issues, please call a member of the team on 01494 794477 or email info@windowfilm.co.uk.