GLAZING GETS SPARK FROM MATCHSTICK MANIFESTATION
Oct 27 2017
Printed and cut graphics are an impactful way of changing the appearance of your premises, while also meeting legislative requirements. In this example at a Hertfordshire based educational charity, The Window Film Company printed, cut and installed custom graphics to glass partitioning, adding an extra element of style while also meeting manifestation requirements.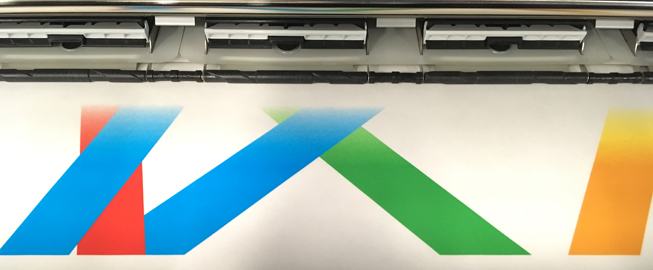 Manifestation markings are required on glass of a certain size, to make the glass easily visible. Large panes of glass without markings pose a health and safety issue, so building regulations dictate that they are required. The position and minimum size of these markings are set out in the regulations, but as long as these requirements are met, manifestation provides an opportunity to get creative.

On this occasion the decision was made to use custom created designs, a series of brightly coloured matchstick style graphics created by using elements from the company branding. The graphics were supplied to The Window Film Company along with a request for a suggested solution. Two possibilities were outlined. Either the graphics could be printed onto an optically clear film and applied to the glass, or for a slightly different finish, the graphics could be printed onto Frostbrite frosted film and then computer cut before application.

Samples of both options were provided to the client, who was able to apply and observe the two films in situ. Having viewed the films first hand, the decision was made to opt for the cut version. Over eleven linear metres of print were required over a number of floor to ceiling partitions, with full measurements for each panel and pane gap provided by the client. This allowed The Window Film Company's in house graphics and print team to create the graphics so that when installed, the pattern would flow seamlessly from pane to pane.

The graphics were printed using state of the art latex print technology before being cut by precision cutting equipment. Each panel was then carefully checked and finished by hand before being installed by a team of The Window Film Company's fully trained and experienced fitting teams.
Once installed the manifestation regulations were met, while the whole look and feel of the area was instantly transformed. By using carefully and cleverly created graphics from existing brand elements, there was an immediate element of familiarity and sense of the brand being integral to the entire premises. The bright and colourful finish also delivered a welcoming and friendly yet stylish and professional overall appearance.

Or more information on how The Window Film Company can help with your manifestation and printed graphics needs, or for information on the full range of window films available, please contact a member of the team on 01494 794477 or email info@windowfilm.co.uk.