STUDIO STYLE
Nov 03 2017
The Window Film Company supplied and installed a range of printed graphics to meet manifestation and signage requirements at a London dance school.
The renowned London Studio Centre has seen students go on to forge successful careers in established dance companies, in the West End and on TV, with the facility boasting a range of high end facilities. Glass features prominently throughout, forming partition walls and doors. The centre required a range of manifestation solutions for these locations and contacted The Window Film Company for assistance.
Manifestation markings are required to make glass easily visible, in turn preventing potential accidents. Building regulations set out where these markings must be situated, at locations designed to ensure that the glass is quickly visible to the naked eye. As long as these requirements (minimum size and location) are met, the markings can take on any shape or colour.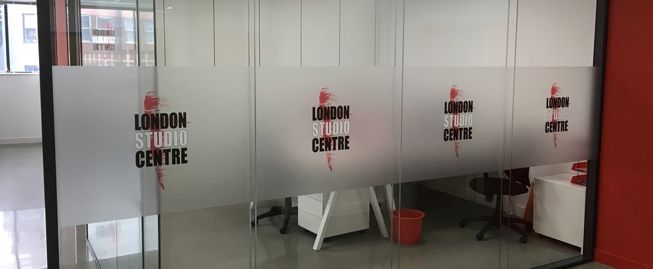 It was decided that the manifestation in this instance should take the form of the London Studio Centre logo, recreated in two variations. The first version saw the logo printed onto a Frostbrite frosted band. Frostbrite frosted window film gives the glass the appearance of acid etched or sandblasted glazing, preventing vision from both sides of the glass without sacrificing natural light, so this particular design was used when an element of privacy was required.
The second variation saw the logo cut from Frosted film and applied to the glass, delivering a more subtle, yet stylish manifestation solution.
In addition to the manifestation, graphics were created bearing the name of meeting rooms, providing clear and stylish wayfinding signage.

The film was all printed and cut by The Window Film Company's in-house graphics team, with several examples of the proposed graphics supplied to the centre before printing the full job. This allowed the client to see the finished effect in situ before confirming. The film was then installed by a team of The Window Film Company's experienced fitters, with the project timing carefully planned to ensure there was no disruption to the classes taking place at the facility.
The finished product was a stylish way of meeting manifestation requirements, while also adding an extra element of privacy and integrating branding throughout. For details on how The Window Film Company can do the same for you, please call a member of the team on 01494 794477 or email info@windowfilm.co.uk.