AWARDS SUCCESS FOR DESIGNER COLLABORATIONS
Nov 17 2017
Two of The Window Film Company's designer collections have been recognised with a gold award at a prestigious ceremony in London. The collaborations with Layla Faye and Kate Farley were both given the top award at the 2017 House Beautiful awards.
The awards are organised by House Beautiful magazine and were introduced to recognise and reward quality, design and innovation across a range of categories.
The awards took place at Savoy Place in London, with The Window Film Company securing success in the "Best Home Improvement Product" category. In speaking of the award, founder and Director Micky Calcott said:
"We're thrilled to have won gold at such a renowned and well respected awards ceremony. We work hard to provide customers with products that are practical, but also inspiration and stylish so are delighted that our Kate Farley and Layla Faye collections have been recognised as delivering something that customers want, enjoy and appreciate.
We were up against some serious competition, so to come away as winners is an achievement that we're excited and proud about. We're absolutely overjoyed"
The awards come after the successful launch of a number of collaborations with established and talented designers, which have seen a host of eye-catching, varied and stylish patterns and motifs recreated on frosted window film, in turn enabling customers to easily add an element of genuine designer style to their glass.
Other nominees for the awards, with categories ranging from fabrics to furniture and wall coverings to white goods, included IKEA, John Lewis, Dualit, Smeg and Dyson.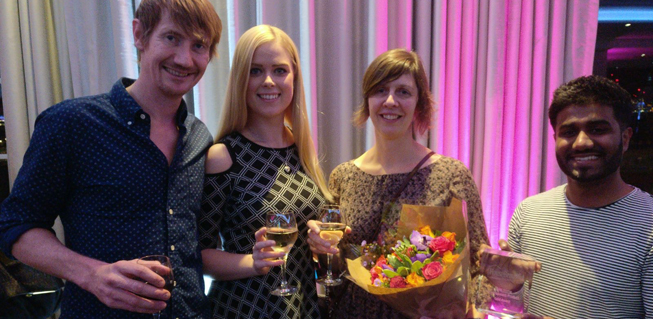 For more information about The Window Film Company's collaboration with Layla Faye, please click here.
To learn more about the Kate Farley collection, please click here.
If you'd like to find out more about The Window Film Company's full range of decorative window films, as well as functional solutions such as solar control, glare reduction, privacy and safety, please contact a member of the team on 01494 794477 or email info@windowfilm.co.uk.