HELPING OUT AT HOLIDAY HOUSE 2017
Nov 10 2017
The Window Film Company is proud to have played a part in the successful launch of the 2017 staging of the prestigious "Holiday House" event.
The annual event is being held in the UK for the first time after nine incredibly successful years in America and brings together a team of some of the biggest and well-known names in interior design to turn a home into a style showcase. While the event is a fantastic opportunity to sample some of the most stylish design options on the market, the event's primary aim is to raise money for charity, with the proceeds from this year's show going to The Breast Cancer Research Foundation (BCRF).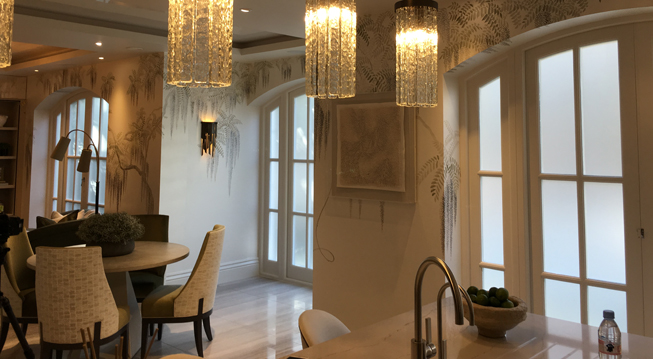 One of the designers involved in the project is renowned luxury interiors expert Sophie Paterson, who had the responsibility of styling the kitchen and diner area of one of the two show-homes. The property boasts large ornate windows that delivered a view to the rear grounds, but with landscaping work being carried out on the garden it was decided that for the month long duration of the show, the view should be blocked to avoid detracting from the interior.
This is where The Window Film Company came in!
Sophie and her team got in touch requesting a solution that would deliver the necessary privacy, but that would also tie in with the contemporary, luxurious style that was being created. The suggested solution was Frostbrite frosted film, a high quality product window film that once applied, gives glass the look of acid-etched or sandblasted glass. This prevents the view from both sides of the glass without sacrificing excessive natural light, while also delivering a classical and elegant finish.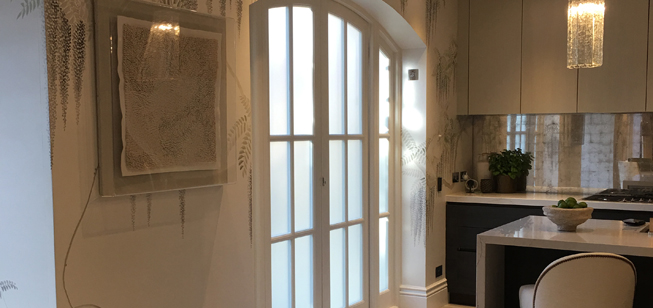 The choice of product was approved and with the event fast approaching, steps were taken to ensure that the film was installed ahead of the grand opening. The work was carried out by a team of The Window Film Company's fully qualified and vastly experienced installers, who were able to deliver a perfect finish that complemented the designer style on show while also delivering immediate privacy.
The grand opening of the event took place on November 8 and was attended by a host of familiar faces, including Elizabeth Hurley. For more details on the event, which is open to the public until December 10, please visit the holiday House 2017 website.
For further details on the privacy solutions supplied and installed by The Window Film Company, please contact a member of the team on 01494 794477 or email info@windowfilm.co.uk.