FROM BLEAK TO BRIGHT AT BUCKS SCHOOL
Apr 13 2017
When a Buckinghamshire Senior School decided to improve the aesthetic appearance of one of their buildings, they approached The Window Film Company for a solution.
The building in question had green panelling on the exterior which had become discoloured and unsightly over time. The school, which is home to over 600 students, wanted to improve the appearance by replacing the tired green facade with a clean new look. The window Film Company recommended the application a solid coloured vinyl product.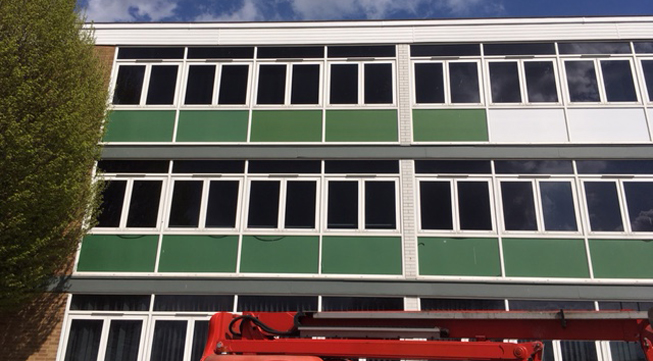 The range of coloured vinyl films offered by The Window Film Company are specially developed to be long lasting and durable, making them ideal for external application. They are available in a range of colours, and the solid nature of the colouring mean they are ideal for covering unsightly surfaces. In order to achieve a professional, impressive and clean look it was agreed that a pure white vinyl would be used.
The film was applied to 60 panels, covering a total surface area of over 85 square metres. The project was carried out during school holidays, allowing the work to be done without any disruption to staff or pupils. The time and date was agreed by The Window Film Company's dedicated operations team, whose role it is to organise the logistical elements of each job. On this occasion this also included provision for powered access, a "cherry picker" platform to enable the installation team to reach all of the panels, many of which were at first storey level.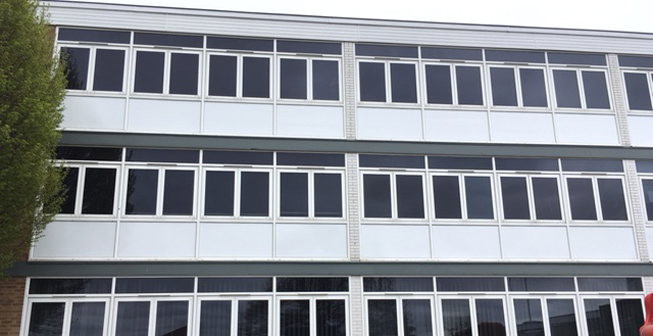 The film was installed by one of The Window Film Company's vastly experienced fitting teams, who methodically worked through each panel, ensuring the surface of each panel was clean and totally free of dirt or dust before applying the new film. This careful process and attention to detail helped to ensure that not only would the new film look fantastic, but it would have the longest possible life cycle.
The gloss finish of the chosen film meant that as soon as it was applied, the building took on a hugely improved appearance, with the dull and tired green replaced with a brilliant white.
For more information on the decorative window film products supplied by The Window Film Company, call a member of the friendly team on 01494 794477 or email info@windowfilm.co.uk.